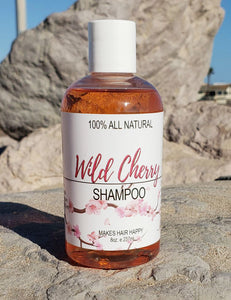 Wild Cherry Lather-less Shampoo: Cleans the hair and scalp.  Eliminates build up on dry, agitated scalp. With organic glycerin and essential oils, this shampoo makes your hair happy. With no additives and harsh chemicals this latherless shampoo softens the hair and allows your natural oils to stay in the hair while removing dirt and residue, turning an ordinary shampoo into a blessed experience.
Scalp Treatment: Part hair into sections. Apply latherless shampoo to hair. Let sit on the scalp for 2 minutes. Massage into the hair. Rinse and repeat. *For an extremely flaky scalp, massage shampoo into the scalp immediately and gently scrape the scalp with a comb (careful not to graze the skin). Rinse.
Ingredients: Organic Vegetable Glycerin, Essential Oils includes Rosemary, Peppermint and Lemon with Wild Cherry Scent.