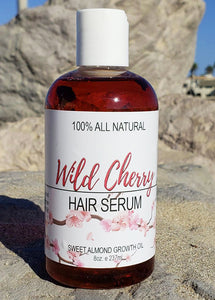 Almond oil is very beneficial for replenishing the oils in the hair and scalp. It is often used as a hot oil treatment for extremely dry hair and scalp. It penetrates the top layer, thereby leaving behind a smooth, silky, glossy hair without the buildup that mineral oils leave behind.
Thermal styling: Place a few drops of oil into the palm of your hand. Rub hands together and over your hair. Brush to help distribute the oil from root to tip. A little bit goes a long way!
Natural Styling: Shampoo hair; Part the hair into small sections and use the nozzle to apply oil into each section. Massage the scalp with your fingertips. Comb or brush through your hair, allowing the oil to spread from the root to the ends of your hair. 
Between Shampooing: Apply onto hair and scalp for a fresh scent and to rid the scalp of dryness.
Ingredients: Sweet Almond Oil. Essential Oils include Peppermint, Rosemary, Lemon and Wild Cherry Scent.