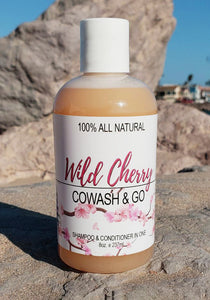 Co-washing can benefit all hair types by eliminating flyaways and helping control frizz, but it tends to work best for those with thicker hair, coarser strands, dry locks or curly tresses. One of the most noticeable benefits is that it's amazing for hydrating and nourishing curls. If you have drier hair in the winter, try co-washing to restore moisture.
Directions: Wet hair. Apply CoWash throughout the hair. Let CoWash set on the hair for 2 minutes, rinse and repeat. For optimal results, saturate hair with leave in conditioner.
Ingredients: Organic Vegetable Glycerin, Aloe Vera Gel, Shea butter, Coconut Oil, Rosemary, Peppermint, Lemon, Wild Cherry Scent (preservatives), Optiphen, Emulsifier and Vitamin E.