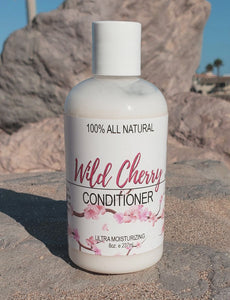 Wild Cherry Conditioner moisturizes and detangles natural hair leaving it shiny, and protected from damage.
Directions: Shampoo hair, rinse thoroughly and apply cream conditioner directly onto hair and scalp. Let sit for 5 minutes. Comb through and rinse. Style as usual.
Ingredients: Aloe Vera Gel, Shea Butter, Coconut Oil. Essential Oils include Rosemary, Peppermint, Lemon (Preservatives), Optiphen, Emulsifer and Vitamin E Oil.